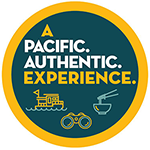 Explore the evolution of Richmond's vibrant Chinese culinary scene with Globe and Mail food critic Alexandra Gill on a premium dinner experience. Your guide will prepare you to dine like a critic at three award-wining restaurants. You will enjoy authentic Cantonese, hot pot and regional Chinese cuisine while discovering how waves of Chinese immigration to Richmond have transformed the city's taste buds and culinary scene.
Custom tours are now available.
Visit website to book.